Some pools offer absurdly low mining fees, and some of them go as low as zero. Today, I wanted to provide an example of why, although we can pay more by coin switching and strive to keep our fees as low as possible, we would never be able to compete with those pools on fees alone.
First up is a letter from the IRS, which stems from Chris's inaccurate entry of two numbers out of hundreds of pages of paperwork. He was supposed to withhold a certain amount of tax on the business tax forms, because the owners are employees of the business. Instead, he paid the money in his personal taxes. Even though the IRS received the same amount, their accounting system couldn't tell the difference and began sending these letters. After spending an hour waiting on the phone on hold the first time, Chris thought the problem was corrected, and then he received more letters. Finally, the IRS fixed the issue on the second call, and said they would waive all the interest and penalties.
You might think that should be the end of it, but then this additional letter arrived. It turns out that the IRS appears to automatically generate these letters days before mailing them - so anything that their employees put into the system is usually not reflected in the next batch of letters. Dealing with the IRS involves knowing which letters to ignore and which to respond to, because the delays in their system generate confusion.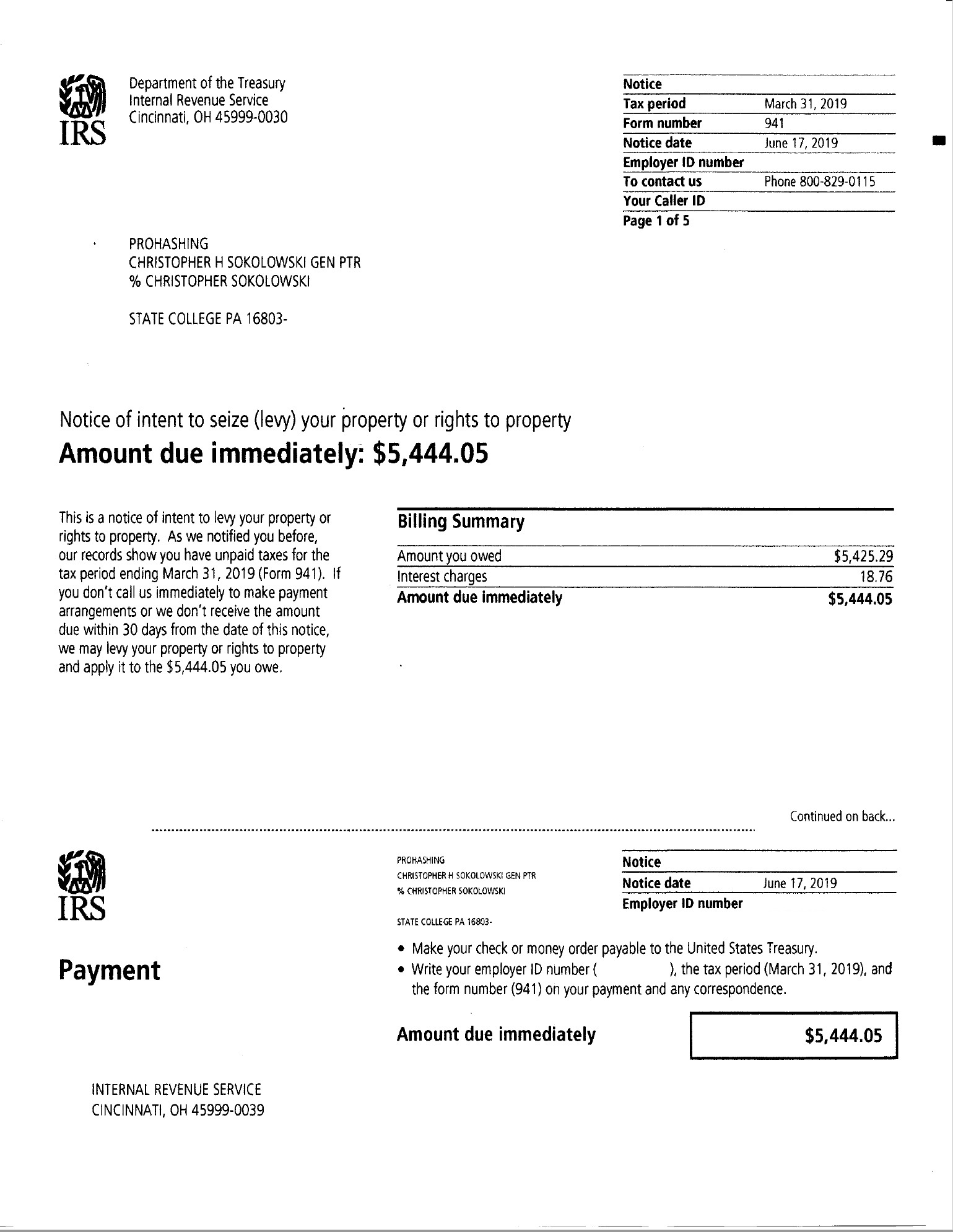 Next, there is a letter from the State Workers Insurance Fund (SWIF), selecting the company for a random audit. This agency charges 0.036% for mandatory workers' compensation insurance for whatever could possibly happen to injure someone who works at home programming on a laptop. I think that we paid $700 for the entire year. They are impossible to contact by phone - Chris had to write them a letter so he had proof in case they didn't process the correct salaries - and they have already spent more than the $700 in contacting us about erroneous "enforcement actions" because they didn't communicate with the state government.
As you can see, this audit requests a copy of the "general ledger." If they want to see records of all revenue, that means restoring terabytes of backups and providing them a spreadsheet with about 44 million rows to detail every block found and every payout. The process could take up days of Chris's time, which could be better spent fixing bugs and doing things that provide new features for customers.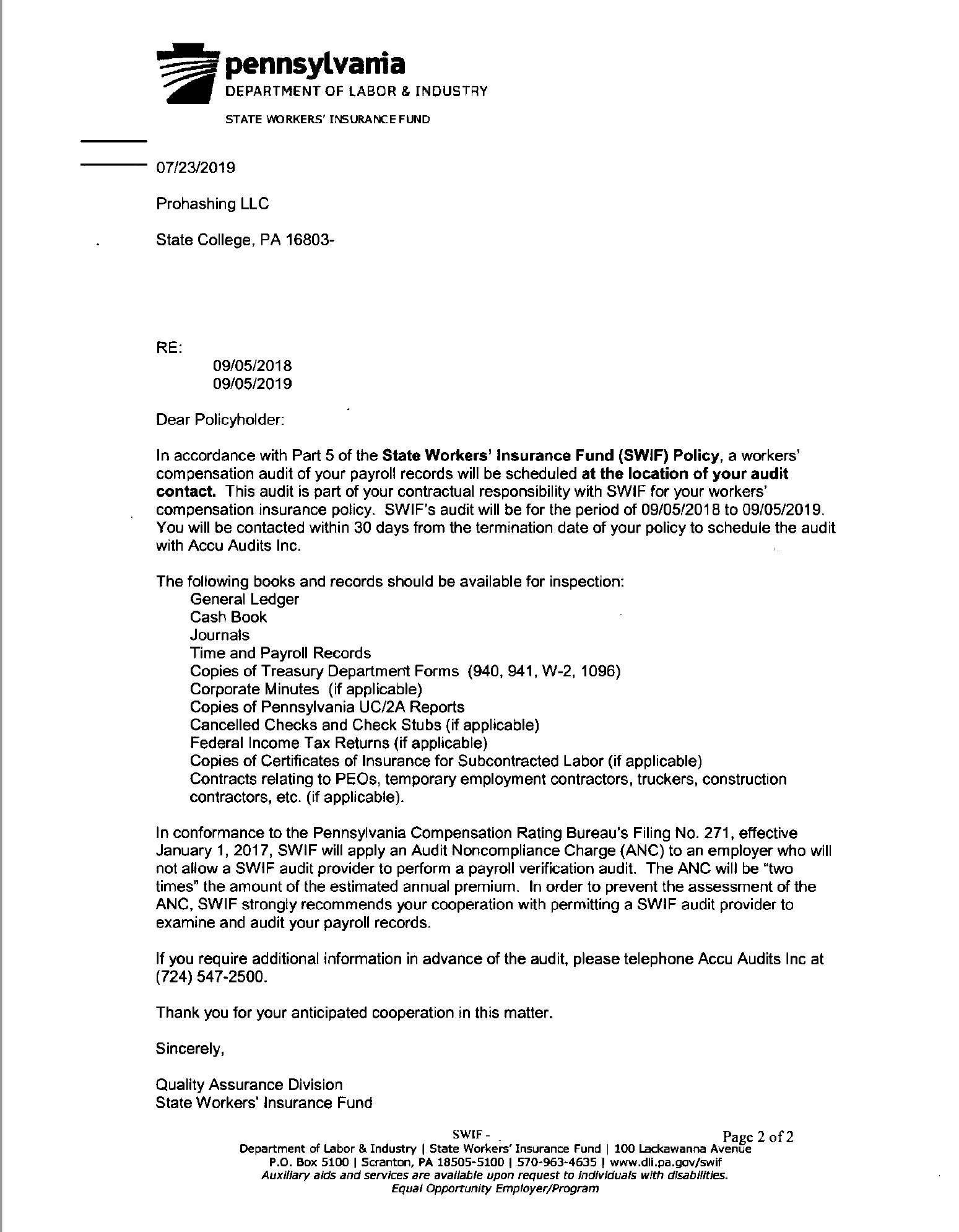 Interestingly, although we reported $33m in revenue for each of the past two years, none of the notices from any government agencies have involved bitcoins. The IRS constantly contacts Chris about Form 941 filings, which involve employee salaries, and SWIF continually sends paperwork, like this audit, that involves insurance. Why the government is spending resources on audits involving employees rather than the huge tax payments we make for all those blocks (we must pay enormous tax bills immediately and then get refunds later because of how LLCs work) is a mystery to me. Whereas the focus in forums seems to be on the IRS prosecuting people for tax fraud on cryptocurrencies, our experience is that the government agencies appear to be more interested in more mundane matters.
Whatever the reason the IRS is focused on these small payments that are everyday issues for many companies, these two examples demonstrate why we will never be able to compete on fees with anonymous, non-compliant pools. It takes a huge amount of time to deal with government agencies for even small amounts of money. Chris has easily spent 300 hours this year dealing with this paperwork. Pools that don't comply with regulations don't have to pay people to file these forms and deal with these audits.
If you believe that government audits are essential to prove that your money is safe and the pool you're dealing with isn't scamming you, then it could be said that you get what you pay for.