The HitBTC exchange is refusing to send $67,000 that is owed to Prohashing despite repeated requests to withdrawal the full balance for over eight days. HitBTC has stopped responding to tickets and we have notified them we will be reporting their actions as theft if we do not receive the funds by Friday. We recommend that all readers cease trading with HitBTC and attempt to withdrawal their account balances as a safety measure until more information is available.
The trouble began on May 28 at 12:27am EDT, when Chris noticed that we were unable to issue payouts because the API call to withdraw money from HitBTC failed. He took money from a different wallet and waited to see if the problem would resolve itself. Seeing that it had not, on May 30 Chris submitted a support ticket to the exchange. Chris received the following response to the ticket: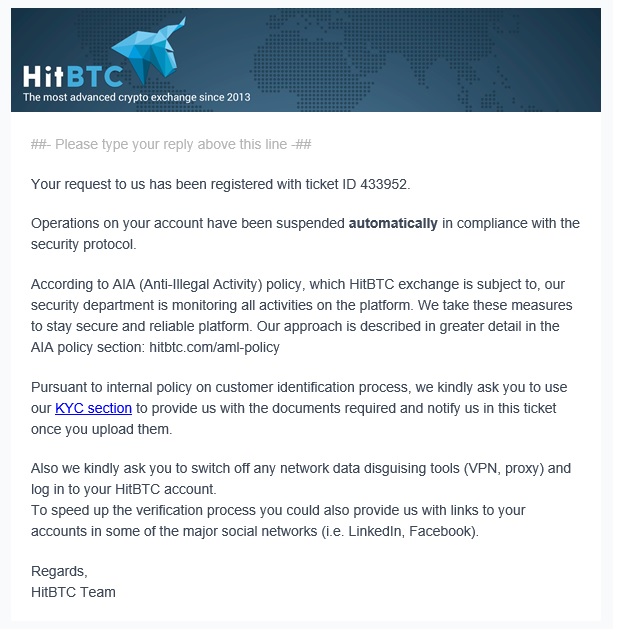 He had already submitted "Know Your Customer" information to HitBTC when the account was first opened, so this response was odd in itself. It is clearly automated and doesn't seem applicable to the situation. We don't use any VPNs to connect to their service, and our twitter and facebook accounts are visible to the world and have thousands of followers. Where our money comes from - mining - is public knowledge. Nevertheless, Chris took an image of himself with identity documents and the other information they required.
A day later, HitBTC then replied with another message: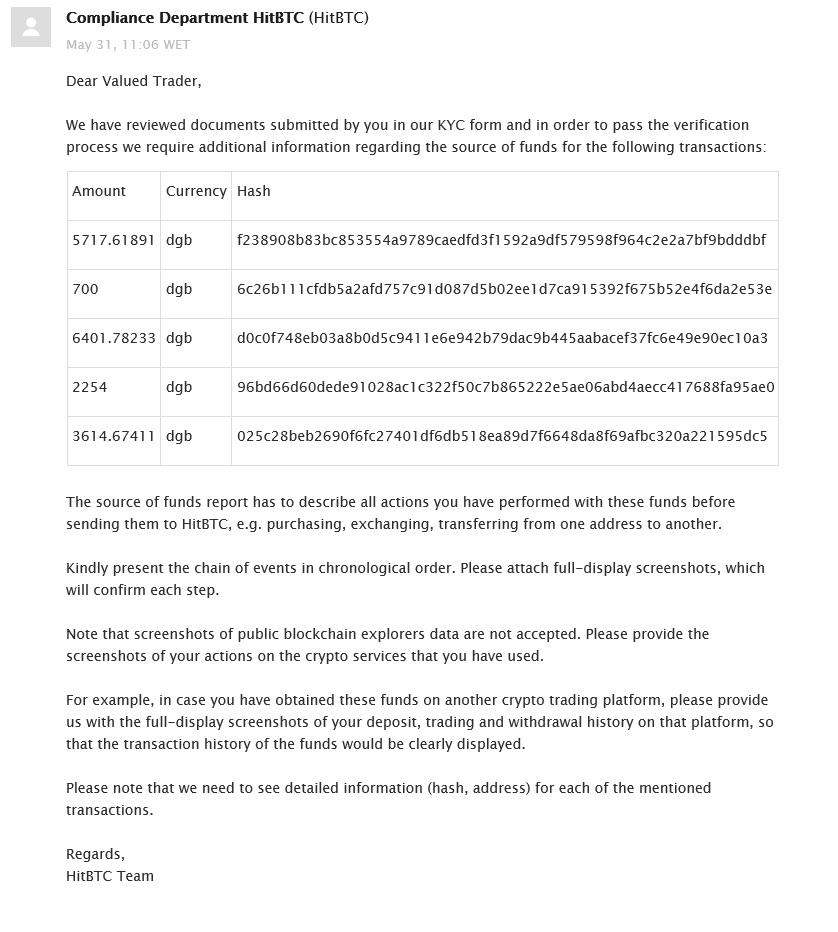 I've never heard of an exchange requesting specific information on transactions, and it was weird that these transactions were requested in this message. People who look these up in a block explorer will notice that they are simply aggregations of huge numbers of mined blocks into one output. There is no "source" of the funds; they were mined. Chris explained that in a reply ticket.
After that, there was no reply for several days. Chris submitted yet another ticket asking for the status of the account, and requested that HitBTC issue a withdraw for the full balance. He then received a second reply, similar to the first image, requesting for the same identity information that had been provided multiple times already. A further, more forceful ticket telling them to close the account and give us our money back received no response, nor did one final ticket informing them of our intent to publicize this issue.
To see the scale of the problem, here's a summary of just how much money HitBTC has refused to pay:
0x_Protocol 314.2917086
Aeternity 29.7
Augur 0.132
BasicAttentionToken 890.2
Bitcoin 5.74645436
BitcoinCash 0.0000518
BitcoinGold 0.00001841
BitcoinInterest 12.54479711
BitcoinSV 0.00028716
Callisto 12344.24185
Dash 0.00084492
DigiByte 6417.722769
Dogecoin 121980
Electroneum 7670
Emercoin 80.80000085
EOS 35.58
Ethereum 2.09117477
EthereumClassic 163.4224626
GoByte 123.1912765
Golem 479
Happycoin 1564.127434
Horizen 1.9941489
IOStoken 830
Komodocoin 0.04846438
Litecoin 150.0006618
LitecoinCash 2066.055599
Monero 42.44381868
NEM 136
NEO 5.63
NXT 34.07669672
OmiseGO 10.79410497
Peercoin 0.035589
Ripple 1643.3
StatusNetwork 298
Stellar 657.6
VeChain 360
Verge 7.115868
ZCash 0.18101457
Zcoin 1.45
Zilliqa 3034.867157
Of course, no business is required to take anyone as a customer who they don't want to deal with, so HitBTC is well within its rights to close the account if they choose. It is clearly illegal, however, to withhold a former customer's balance if they wish to terminate the relationship. We informed HitBTC that we will be considering their actions as theft if they do not return our money within a week, and intend to call the police if they do not so do.
This entire sequence of events is extremely suspicious to us. We have been using HitBTC for a long time and mining tens of different coins. Nearly every single one of the tens of thousands of transactions that have been sent to them look like these transactions they claim need verification - they all combine hundreds of mined blocks into one output for sale. There's no reasonable explanation why they would suddenly decide that this pattern of activity requires verification now. If a software upgrade had caused a bug, then why has the exchange failed to notify customers of that and apologized for the delays? If HitBTC wanted to retain us as a customer, why didn't they notify us immediately of whatever the problem was instead of requiring Chris to submit a support ticket days later? And why are they failing to provide any explanation or timeframe for when the money will be made available?
No Prohashing customers are affected by this situation; although we now have a reserve of -9 bitcoins, we have $260,000 in a bank account that can be used to cover payouts if necessary. 15 additional bitcoins are owed to customers who have reached "end of liability" due to not entering payout addresses or failing to submit paperwork. Plus, the recent decline in coin prices has already lowered our debt if it develops that HitBTC is in the initial states of an unrecoverable systemic problem.
Perhaps we are just overly worried about the situation and the issue is just overloaded customer service. In that case, we are awaiting HitBTC's reply to explain where the $67,000 is, and we urge them to resolve the situation as soon as possible to avoid unnecessary escalation of the issue. We will update this post if we receive payment. Until then, we thought it prudent to warn everyone as soon as possible so that they can take steps to safeguard their assets.