CRYPTONAIRE WEEKLY MAGAZINE 205TH EDITION IS OUT NOW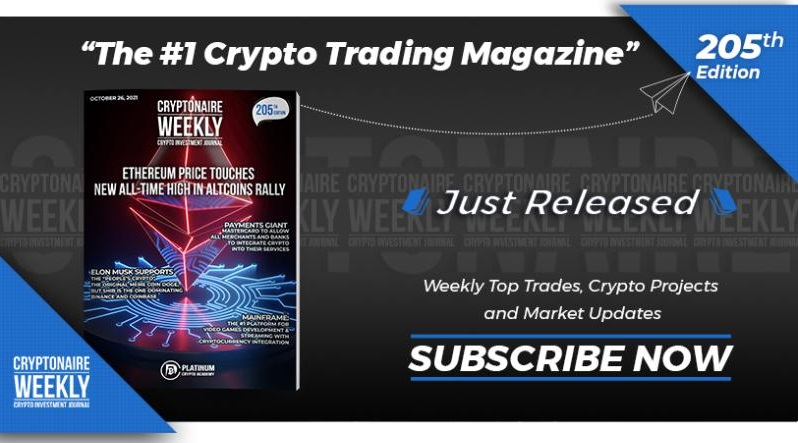 The #1 CRYPTO TRADING MAGAZINE
Despite the slight downturn, the institutional adoption of Bitcoin continues to increase. Filings with the United States Securities and Exchange Commission show that four wealth management firms have bought shares in Grayscale's Bitcoin Investment Trust.
A survey of about 42,000 people in 27 countries by product comparison website Finder showed a high adoption rate in Asia. Among the countries polled, Vietnam had the highest adoption rate at 41%, while India and Indonesia had a 30% adoption rate.
Traders lapped up ProShares Bitcoin Strategy exchange-traded fund on its debut on October 19, with more than 24 million shares changing hands in 24 hours. This generated a turnover of more than $1.1 billion, making it the second-most-traded fund launch, behind BlackRock's US Carbon Transition Readiness ETF launched in April of this year, according to Bloomberg.
Bitcoin skyrocketed above the previous all-time high of £47,240.05 on October 20 but the bulls could not sustain the higher levels, as we had suggested in our previous analysis.
Profit-booking at higher levels pulled the price back below the breakout level of £47,240.05 on October 21. However, a minor positive is that bulls have not allowed the BTC/GBP pair to dip below the 20-day exponential moving average.
This indicates that traders continue to buy on dips, anticipating a move higher. The rising moving averages and the relative strength index (RSI) above 63 signals advantage to buyers.
A breakout and close above the £47,240.05 to £48,426.53 overhead resistance zone could indicate the start of the next leg of the uptrend. The next target objective on the upside is the 1.618% Fibonacci extension level at £56,174.25.
Contrary to this assumption, if the price turns down from the current level, the bears will try to sink the pair below the important support of £42,653.53. If
they succeed, it will suggest the start of a deeper correction that may reach the 50-day simple moving average (SMA).
We remain cautious and will wait for a decisive close above the overhead resistance before recommending any trades.
Lastly please check out the advancement's happening in the cryptocurrency world.
Enjoy the issue!
Featuring in this weeks Edition:
- Main frame Protocol
- bitcci
- Cure Token
- Smartchem
- Mandala Exchange
[center]
[/center]
Read More
CRYPTO TRADE OPPORTUNITIES

Ethereum price touches new all-time high in altcoins rally

Bakkt shares skyrocket after partnering with Mastercard and Fiserv

Elon Musk Supports the "People's Crypto" the Original Meme Coin DOGE, But SHIB is the One Dominating Binance and Coinbase

Peer-to-Peer Bitcoin Exchange LocalBitcoins Launches Mobile App

GREEN CHEMISTRY GOES BLOCKCHAIN

bitcci: BLOCKCHAIN-BASED BUSINESS MODEL FOR THE SEXUAL INDUSTRY

MainFrame: The #1 Content Creator Guild powered by the Cryptocurrency Integration


#bitcci #MAINFRAMEPROTOCOL #CureToken #Smartchem #MandalaExchange #CryptonaireWeekly #platinumcryptoacademy #Binance #Bitcoin #Ethereum #Ripple #Litecoin #Ecosystem #DayTrading #BTC #digitalcurrency #digitalcurrencymarket #DayTrading #Cryptocurrencyexchanges #digitalexchange
CW - Website Work
https://www.platinumcryptoacademy.com/c ... ober-2021/