CRYPTONAIRE WEEKLY MAGAZINE 204TH EDITION IS OUT NOW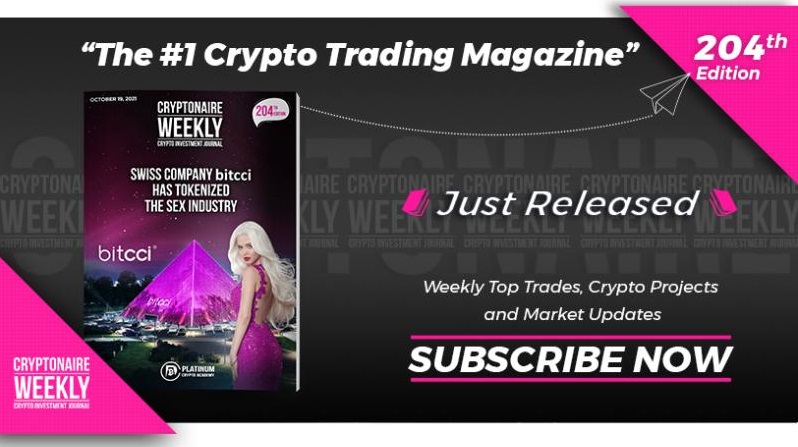 The #1 CRYPTO TRADING MAGAZINE
Despite the slight downturn, the institutional adoption of Bitcoin continues to increase. Filings with the United States Securities and Exchange Commission show that four wealth management firms have bought shares in Grayscale's Bitcoin Investment Trust.
A survey of about 42,000 people in 27 countries by product comparison website Finder showed a high adoption rate in Asia. Among the countries polled, Vietnam had the highest adoption rate at 41%, while India and Indonesia had a 30% adoption rate.
The crypto markets will take a huge regulatory leap on Tuesday when the first Bitcoin-linked exchange-traded fund by ProShares, which tracks Bitcoin futures, will start trading on the NYSE under the ticker BITO.
Bitcoin soared above the £42,653.53 resistance on October 15, clearing the path for a retest of the all-time high at £47,240.05.
The rising 20-day exponential moving average (EMA) and the relative strength index (RSI) in the overbought zone indicate that bulls are in the driver's seat.
If buyers push the price above £47,240.05, the BTC/GBP pair could start its northward journey toward the 1.618% Fibonacci extension level at £56,174.25.
Conversely, if the price turns down from £47,240.05, the first support to watch on the downside is £42,653.53. If bulls defend this level successfully, the pair may consolidate between the two levels for a few days.
A consolidation near the all-time high is a positive sign as it shows that traders are not rushing to the exit. That could increase the prospects of the continuation of the uptrend.
The first sign of weakness will be a break and close below the 20-day EMA. Such a move will suggest that supply exceeds demand and the sentiment could be turning negative. A break and close below the 20-day EMA could pull the price down to £38,257.06.
Lastly please check out the advancement's happening in the cryptocurrency world.
Enjoy the issue!
Featuring in this weeks Edition:
- Main frame Protocol
- Asia Broadband
- DeGeThal
- bitcci
- Artex
- Mandala Exchange
- Radiologex
- Ferrum Network
Read More
CRYPTO TRADE OPPORTUNITIES
Crypto market cap hits an all-time high of $2.5 trillion
OpenSea Killer, Coinbase NFT Marketplace, Sees 'Insane' Interest, Over 1 Million Users Sign-up on the Waitlist
Crypto finserv firm Bakkt to soon trade publicly on New York Stock Exchange
SEC Approves Bitcoin Futures ETF, Opening Crypto to Wider Investor Base
MANDALA EXCHANGE – POWERED BY BINANCE CLOUD
Artex, the First Blockchain-based Marketplace for Selling and Investing in Artwork
MINING COMPANY OFFERS FIRST-EVER "MINE-TO-TOKEN" CRYPTOCURRENCY TO INVESTORS LOOKING FOR EXPOSURE TO GOLD
HOW THE DTM TOKEN IS TRANSFORMING THE CRYPTO MARKET
SECURING THE GLOBAL HEALTHCARE, RADIOLOGEX STO IS AN OPPORTUNITY TO HAVE YOUR SHARE OF BENEFITS
How Ferrum Network's Staking As A Service (SAAS) Model Benefits Blockchain Start-ups And DeFi Investors
#bitcci #Artex #AsiaBroadband #DeGeThal #MandalaExchange #Radiologex #FerrumNetwork #MAINFRAMEPROTOCOL #CryptonaireWeekly #platinumcryptoacademy #Binance #Bitcoin #Ethereum #Ripple #Litecoin #Ecosystem #DayTrading #BTC #digitalcurrency #digitalcurrencymarket #DayTrading #Cryptocurrencyexchanges #digitalexchange
CW - Website Work
https://www.platinumcryptoacademy.com/c ... ober-2021/