In previous posts, I reviewed how cryptocurrency lending, a relatively new product at the time, had the potential to completely change the markets. In this post, I'm going to review some causes for concern that have come up just this week.
The initial trigger seems to have been a decision by BlockFi to lower its interest rates. While other companies periodically adjust rates, BlockFi dramatically restricted its BTC lending. Instead of 2.5 bitcoins earning their highest rate, that limit was cut to 1 BTC. The company introduced additional "tiers," with the highest tier earning just 0.5%, down from 3%. 0.5% isn't above the 0.79% risk threshold I calculated for a knowledgeable cryptocurrency investor at
https://prohashing.com/guides/earning-i ... currencies
, so I need to move money from BlockFi somewhere else. Here are BlockFi's new interest rates from their own site: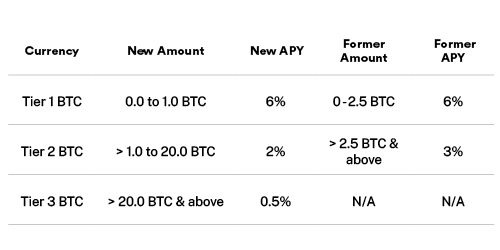 Genesis Trading (
https://genesistrading.com
) is the "lender of last resort." Gemini, Ledn, and others make a significant portion of their business re-lending to Genesis. I contacted Genesis and they gave me a quote for a direct deposit to them of $5m of Prohashing's money for 2% with no lockup period for bitcoins. The image below is what Genesis sent me after I completed their application: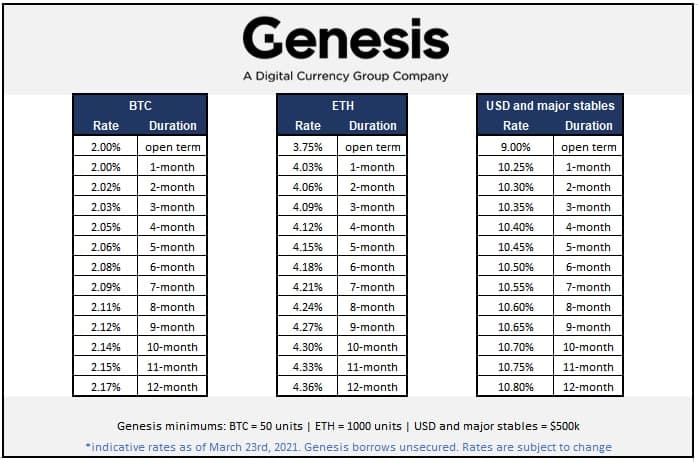 Strangely, however, Gemini's "Earn" program offers 3.05%, and their sole "approved borrower" is Genesis. Ledn also has a logo stating that they are "in collaboration with Genesis," and they offer 6%. How is it possible that these two firms, and potentially others that I haven't listed, are able to remain solvent while paying out more than Genesis pays them?
My conclusions so far are:
Any company that has dramatically different (by a factor of 12) "tiers" of lending, like BlockFi and Nexo do, is not a sustainable business. They aren't making money off of lending, because if they were, they would want as much money as possible to lend. Instead, these companies are losing money to subsidize some other product. That increases risk, and that's why (in addition to the poor rates) I'm leaving BlockFi and will be changing my overview to rescind my recommendation of them.
The true rate of secured BTC lending is 2%. Companies that are paying more are either making unsecured loans, are somehow making money off "tokens," or are simply using the Silicon Valley model of burning investor funds to gain customers and then sell the company to someone who will burn their own funds. The business model of these firms should be questioned.
Moving on, I also found out that something changed recently that dramatically increased dollar lending rates, and it leads me to think that the bubble cycle may have reversed. Genesis quoted me 10.25% for one-month USDC, an absurd figure. People are willing to pay unbelievable interest to long bitcoins, and there are almost no shorts on the OTC market. The USDC rates are exponentially increasing and the BTC rates are approaching zero.
At the very least, this change is going to cause a shakeout among the lending companies. Celsius already cut its rates for BTC from 5% to 4% yesterday. I expect that the legitimate companies like Celsius and Voyager will continue to repeatedly cut rates, while some of the unregulated companies like Nexo have at least a small chance of going belly up - because this drop in borrowing demand was so fast and unexpected. There will be huge outflows from these companies back into private wallets.
I think there is reason for concern right now:
If you are a lender, especially if the company hasn't just cut rates, you should question how your company is still offering more than 2% in BTC interest. When I asked Gemini about that, they responded with a canned reply pointing me to an image displaying their interest rates:


If you are a trader, you should question whether there is any more upside this cycle when the ratio of long:short interest rates at the most respected lender has now risen to 5.25:1.
Coin prices seem to be finally reacting to this situation - perhaps the long liquidations are starting and the USDC interest rates will start to become more logical in the coming weeks. Note that the prices began to fall roughly around the time that BlockFi announced these new rates. I doubt that BlockFi themselves can move markets, but it could be possible that the changes that caused BlockFi to act started to impact the wider market as well at the same time.
That said, we should be cautious in that that it's now the 5 day period around the end of the month when prices almost always reach their low point for the month (see February, January, November, etc..) This is the typical slump period when selling pressure from miners and other industry players to pay bills and salaries overwhelms buyers, and prices next week will probably have more predictive power on whether the cycle is over or not.
But on the other hand, despite a significant increase in advertising, Prohashing's website traffic declined by 30% since the peak a month ago. Between the other peaks, traffic continued to increase.
The last point to consider is that some believe the disappearance of the "GBTC premium" - where people were paying more for the Grayscale Bitcoin Investment Trust than the bitcoins represented by the shares were worth - is the sole cause of the interest rate changes and that therefore the impacts will not extend to pricing of coins. I don't agree with them, because the fund lost almost half its value - from 40% above asset value to 10% below value - in the course of six weeks, despite there still being few options for most US traders who are limited to the stock market and no ETFs available domestically.
The fund's lack of demand is a symptom of a larger crisis of confidence in bitcoin, and while its decline may have contributed to the interest rate crash, one cannot simply write off the lack of demand for the Trust as some sort of isolated event contained to the borrowers who were making money off the premium.
Finally, even if you completely dismiss both the Trust's effects on interest rates and also the potential lack of confidence in coins, there's still the issue that the fund sucked money into bitcoins and caused prices to rise dramatically. There are no longer any people buying bitcoins solely to lock them up into the fund. Instead, Digital Currency Group itself is buying back the Trust's own shares and selling the bitcoins at a profit. They can (and are) selling out the fund's assets, which are 3% of all bitcoins. This constant selling pressure is going to weigh on the market for months until the fund is unwound while DCG laughs all the way to the bank.
The current interest rates are clearly unsustainable both for borrowers and for the lending firms above Genesis, and it's time to consider whether a cycle-ending long squeeze is about to occur.